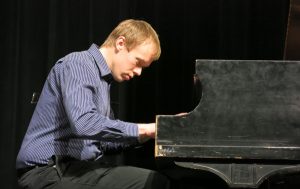 We strive to provide a joyful and engaging experience at the piano for all students. Each lesson is a collaborative learning experience between student and teacher. Students learn sound musicianship from the earliest years that moves them toward independent life skills at the piano.
With this approach, students may pursue piano and music at advanced levels (see our Artist Musician Program) or simply have the ability to make and understand music to live a more-enriched life.
Regular private piano study is perfect for people at any level or amount of interest:
Children and youth beginners, K-12 (consider our Piano Detectives program for beginners ages 5 through 7)

Adult beginners and "restarters"

College students (non-piano majors continuing study beyond high school or beginners)

College non-piano music majors needing help with class piano

Parents studying to be able to help their students learn (see our Parent Support Program)

Piano hobbyists
---
Piano Literature
For regular private piano study, our teachers choose from a rich assortment of piano literature — classical, popular, jazz, and sacred — to name a few, to weave together a well-rounded program for each student that includes theory and technique as well. Students in the Artist Musician Program focus primarily on classical literature.
---
Accelerated Piano Study
Accelerated study is an option for 1) students in the Artist Musician Program who are pursuing advanced training in piano, or 2) any student who enjoys piano study and is not involved in a lot of other extra-curricular activities.
Two lessons per week
Lessons with the same or two different teachers*
10% discount on overall cost
The two weekly lessons can be different lengths* and a two-teacher option is offered so students are exposed to multiple points of view on their playing.
---
Performance Opportunities
Performance Club: For two weeks of the academic year, private lessons are replaced by Performance Club, an opportunity for solo performance and the chance to experience additional coaching in a group setting. These special classes include activities designed to strengthen performance and listening skills.
Recitals: Four are offered each year: Halloween costume recitals, holiday recitals in December, and two more recitals in the spring. The first spring recital offers a unique musical experience as students perform in ensembles with parents, siblings, family friends, or with other students from the Music Clubhouse. At the final spring recital, students are recognized for their achievements during the year. On each recital weekend, there are multiple concert times – students may choose the time that fits best with their family's schedule..
Auditions and Competitions
Music Clubhouse students may participate in a number of events that allow students to receive critique or to compete for opportunities to advance and play in special performances. Though teachers might recommend that students participate in certain events, the final decision to enter is always made by the student and family. They require extra preparation from the student and often require an entry fee. The instructor will make these opportunities available to students as appropriate. These opportunities include offerings of the Kansas City Music Teachers Association, such as Music Progressions (an annual performance evaluation and theory test).
---
Enrollment Details
The Music Clubhouse will enroll students throughout the year as the schedule permits. Teachers have an informal interview with new students to review their previous study, if applicable, and place them at appropriate levels using piano study materials best suited for their needs.
Private summer study is available through June and July. The schedule can be flexible, allowing for family vacations and other events.
Need more information or ready to sign up? Please email info@musicclubhouse.com with questions or to schedule an interview.
---
Private Piano Program (August-May)
• 33 private lessons
• 2 Performance Club classes

Lesson length:
30, 45 or 60 minutes, based on age and availability
Schedule:
Weekly for 35 weeks, excluding holidays
2021-2022 Private Piano Calendar
---
Program costs:
Varies, depending on length of each lesson, number of weeks in the program, and level of instructor.
Private Piano Lessons Policies
The policies below have been carefully constructed to insure a quality relationship between the student and the instructor. The intent is to provide a sound educational environment for the student.
Tuition Payment Options
Tuition for private study/performance club classes may be paid in full upon enrollment or in ten monthly installments at no additional charge (August through May). The August installment is due by the student's first lesson, and the remaining nine installments are due by the tenth of each month, September through May.
A $10 FEE WILL BE ASSESSED FOR LATE PAYMENT.
Lessons will be discontinued when the student's account becomes 15 days past due. Tuition checks should be made payable to the student's private teacher and can be dropped in the lobby mailbox or mailed to The Music Clubhouse, 1245 New Hampshire St., Lawrence, KS 66044.
If a student chooses to discontinue lessons before an enrollment term is complete, that student will be obligated to pay tuition for four lessons beyond the time the teacher is notified.
Materials and Other Supplies
Materials needed for lessons and classes vary according to the student's level of ability and length of lesson. Books and other materials needed may be purchased through the J. W. Pepper and Sons website, pianoatpepper.com.
Attendance
An academic year of study includes 33 private lessons and two group classes.
Students are encouraged to arrive promptly for lessons and classes. Teaching sessions will not extend past the scheduled ending time to compensate for late arrivals. No make-up lessons or classes will be given to compensate for a student's absence, and no refund of fees will be issued.
However, if a student wishes to participate in a "lesson swap," they may request from the teacher the contact information of other participating students. Then, if the student finds a conflict with the scheduled lesson time, they may contact another student and arrange to swap lesson times that week. Students shall notify their instructor of the change once it has been confirmed.
Inclement Weather
If Lawrence Public Schools close due to inclement weather, the Music Clubhouse will be closed as well. Our website will be updated in the event of a weather closing. All classes and lessons cancelled due to inclement weather will be rescheduled.
Performance Club Classes
For two weeks of the academic year, The Music Clubhouse will hold performance club classes for all private students. These sessions include opportunities for solo performance and ensemble playing as well as activities for strengthening theory and aural skills.
During performance club weeks, students will NOT have their regularly scheduled private lessons but instead will attend a group class. These sessions will be about 60 minutes in length and will be offered throughout the entire week, Monday through Friday.
Sign-up sheets for performance club will be posted in the waiting room of The Music Clubhouse. Multiple class times will be offered each day of the week, and each class will be taught by two Music Clubhouse teachers. Students will sign up for the performance club class that best suits their schedule, and if possible, when their private teacher will be present. Each class will be limited to eight students.
Additional Recitals and Auditions
Some students may participate in recitals and auditions offered by organizations such as the Lawrence Accredited Music Teachers Association and the Kansas Music Teachers Association. These are in addition to the performance opportunities offered by The Music Clubhouse. These require extra preparation from the student and often require an entry fee. The instructor will make these opportunities available to students as appropriate.
Summer Study
A custom plan for private study is offered through June and July. The schedule can be flexible, allowing for family vacations and other events.
Need more information? Please contact us and we'll answer any questions you may have or send you additional details about our programs.